Machine à trois is a percussive chamber music group formed by Pascal Meyer, Rachel Xi Zhang and Laurent Warnier. The Trio consisting of the piano, the marimba and the vibraphone produces music with colourful resonances and rhythmic drive where the sounds of wires, wood and metal interlock, fuse and radiate. 
The three performers are interested in bringing unheard music to their audiences. This has included arrangements, adaptations and new compositions from well and less well known composers/performers and their own original music. Sounds vary from minimal soundscapes to impressionist soundclouds and jazz influenced groove.
Machine à trois believes in red thread programming music from the current and previous centuries, with equal admiration for improvised, composed and genre crossing music.
Since the first time they performed together in 2011, they left their footprints all over the world, from Amsterdam's Concertgebouw, Luxembourg's Philharmonie to the National Centre of Performing Arts in Beijing.
Photo © Sanja Harris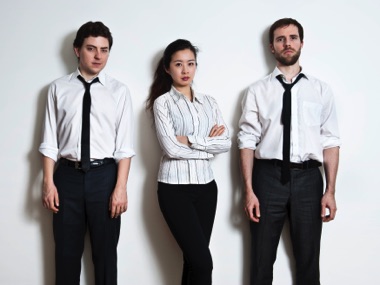 Pascal Meyer is a longterm member of the Luxembourgish contemporary music ensemble United Instruments of Lucilin. Together with pianist Xenia Pestova Bennett he recorded Karlheinz Stockhausen's Mantra and the complete works for two keyboards by John Cage on NAXOS. Machine à trois represents for him everything schools didn't teach and everything his past classical chamber music groups were not : a platform to experiment with composing, playing non-classical repertoire, and finding bridges to tradition while re-adapting them.
Rachel Xi Zhang spent most of her youth studying piano in Shenzhen, China. She acquired a taste for unconventional pitch and timbre by beating on random objects through her rebellious youth, and finds her soul in peace when touching a marimba. The vibration of her sound can be described as rooted to classical music from an earlier era, yet engraved with the characteristics derived from countless collaborations with composers of her generation.
After studies in the Netherlands and the United States, Laurent Warnier, finally settled as a cosmopolitan between Luxembourg and Amsterdam. He spends much of his time researching and creating new repertoire for marimba and vibraphone - adding a piano was just a logical consequence of his work. Equally interested in baroque and impressionism era music as well as original modern music with electronics and improvisation, Machine à trois provides a rich playground for experimentation. 
Photo © Sanja Harris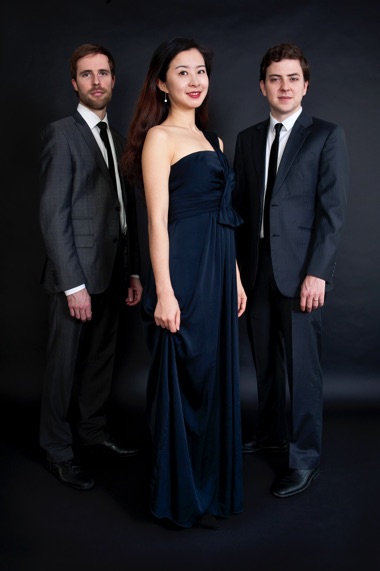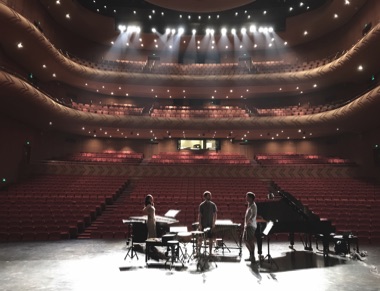 2021
17 Sep | Luxembourg Philharmonie, LU
2018
10 Mar | ARCA Bertrange, LU
2017
23 Dec | Shanghai Oriental Arts Center, CN
17 Aug | XI'an Concert Hall, CN
12 Aug | Tangshan Poly Theater, CN
10 Aug | Shandong Grand Theater, Jinan, CN
28 May | Eglise Kayl, LU
2016
14 Aug | Xuzhou Concert Hall, CN
12 Aug | Fuling Grand Theater, CN
10 Aug | Harbin Grand Theater, CN
07 Aug | Tianjin Grand Theater, CN
30 May | Luxembourg Philharmonie, LU
2015
26 Oct | Het Veem Theater | Amsterdam, NL
25 Oct | Het Veem Theater | Amsterdam, NL
2014
30 Jan | Concert du Midi | Luxembourg, LU
26 Jan | Kulturhaus Beda | Bitburg, D
2013
16 Nov | Harbin Concert Hall | Harbin, CN
09 Nov | Beijing University | Beijing, CN
07 Nov | Embassy of Luxembourg in Beijing, CN
26 Oct | Qinghua University | Beijing, CN
19 Oct | Lecture at Beijing University | CN
2011
23 Jan | SSB De Harmonie | Leeuwarden, NL
19 Jan | Concertgebouw | Amsterdam, NL
19 Jan |Concertgebouw De Vereeniging | Nijmegen, NL
18 Jan | Arkezaal Muziekcentrum | Enschede, NL
14 Jan | Orpheus | Apeldoorn, NL
13 Jan | Vredenburg Leeuwenberg | Utrecht, NL
12 Jan | Muziekgebouw | Eindhoven, NL
11 Jan | Philharmonie | Haarlem, NL
09 Jan | Theater aan het Vrijthof | Maastricht, NL